Pairwiser runs a proprietary, state of the art algorithm for generating pairwise covering arrays. This post reports on the performance of this algorithm on a set of realistic and openly available test models.
Test Models
We collected a set of test models from studies of industrial software. Some of the models are of input parameters and some are of software product lines. All the models are large, industrial systems with a large amount of parameters, be it configuration parameters or input parameters with constraints between them.
In the study Variability Modeling in the Systems Software Domain, Thorsten Berger and colleagues made test models for eleven large, configurable, industrial systems. Among these are for example the Linux Kernel and firmware for consumer internet routers. These are some of the largest available models.
In the study Interaction Testing of Highly-Configurable Systems in the Presence of Constraints, Myra B. Cohen and colleagues provided test models for the input parameters of five software solutions including the GCC compiler collection and the SPIN simulator and verifier.
In the study Reverse engineering feature models, Steven She and colleagues made test models for three large, configurable, industrial systems: The Linux Kernel, eCos — a real-time operating system — and the FreeBSD kernel.
As can be clearly seen, these are large-scale industrial systems and are thus realistic case studies for the performance of an algorithm for generating pairwise covering arrays with respect to testing industrial systems.
The models are available for download here and here.
Test Machine
Pairwiser will run on a cloud service such as Amazon Web Services. Until this service has been set up, we benchmark on one of our development machines. It is a three year old high-end consumer desktop machine with the following specs:
Test Results
The following results are from running the Pairwiser algorithm for generating pairwise covering arrays (Algorithm #237). All covering arrays were verified to have a coverage of 100% using the Pairwiser algorithm for coverage calculation (Algorithm #238, which performance will be the topic of a future blog post). If you would like to verify them yourself, the covering arrays are available for download here. We report the results are as follows.
Nr.
System
Parame-ters
Constraints
Cases (Rows)
Wall

_

Clock Time (s)
1
Linux Kernel (23 platforms)
13 836
246 724
212
2 011,06
2
Freetz
6 848
101 877
82
211,15
3
Linux Kernel (x86)
5 701
187 193
616
315,65
4
Buildroot
3 672
45 575
117
58,29
5
uClinux
3 144
31 614
49
15,41
6
EmbToolkit
2 136
160 353
81
74,82
7
BusyBox
1 690
17 784
50
3,00
8
FreeBSD kernel
1 396
17 352
133
3,18
9
coreboot
1 386
47 090
40
2,60
10
eCos
1 244
2 768
113
2,24
11
GCC
220
41
30
0,07
12
Apache
210
8
43
0,10
13
Spin Verifier
93
50
54
0,03
14
Bugzilla
61
6
20
0,01
15
Eclipse IDE
48
615
35
0,02
This table holds a selection of the performance results. The measurements for more of the systems in the referenced studies are available in this table.
Plot
This plot shows test parameters vs. wall clock time (s).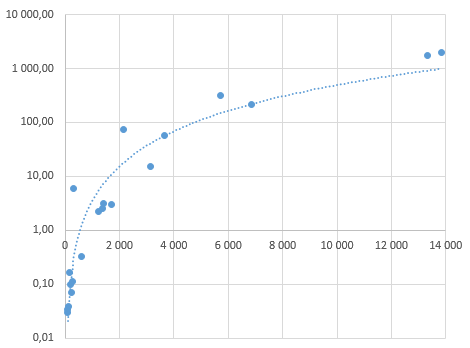 Remarks
References